What product is this article for?

CNCentral
Copying Base Menus to Production Menus
The instructions below assume that the Item Setup Summary has been reviewed and has very few warnings, Site users have been set up and can log in, Site configuration has been completed and set up properly, Base Menus and recipes are completed. Note: Only District Admin (DA) users and Building Admin (BA) users with menu editing capabilities will be able to perform these functions.
Copying Base Menus to Production Menus
Menus can be created directly from the Menu Calendar module, or they can be created in the Base Menus module and copied into the Menu Calendar. To copy from the Base Menu module, select the 3 dots then select Copy to Menu Calendar.
On the pop-out, you can name the base menu for example 'Breakfast Menu Week 1' and select the week you want to copy it to. You can either copy to a building or you can copy to building groups. Coping to a building will copy the menu to one building at a time. Copying to a building group will copy the menu to all the buildings in the selected group.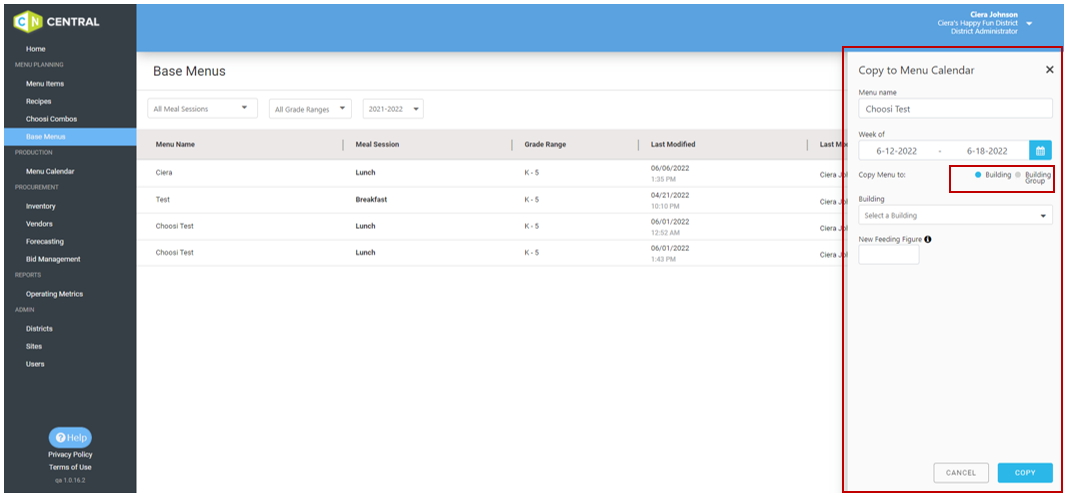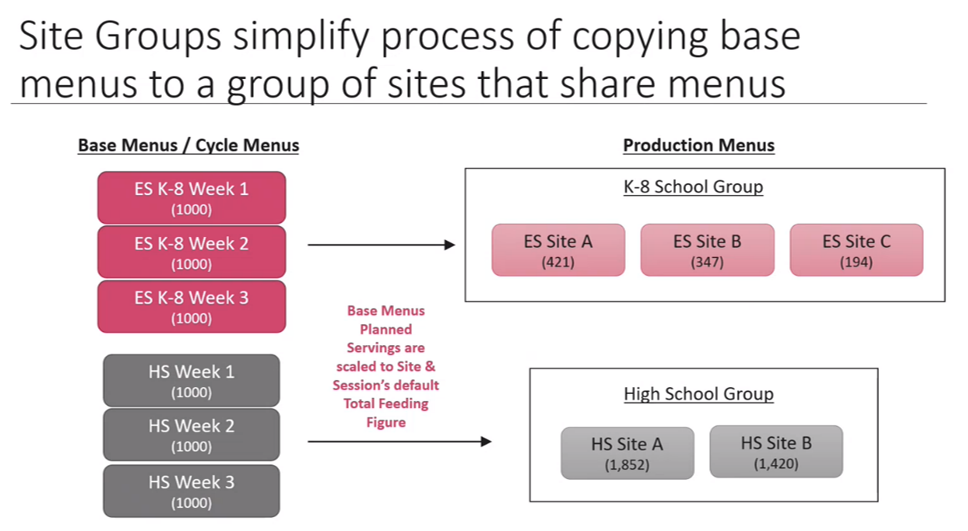 You can also Copy Base Menus to the Menu Calendar from the Menu Calendar Module. This can be done if you need to make targeted changes to a school. When selecting the blue plus sign, this will allow you to copy from a Base Menu or copy from another week. It's best practice to make sure you are on the school and meal you want to copy the Base Menu to.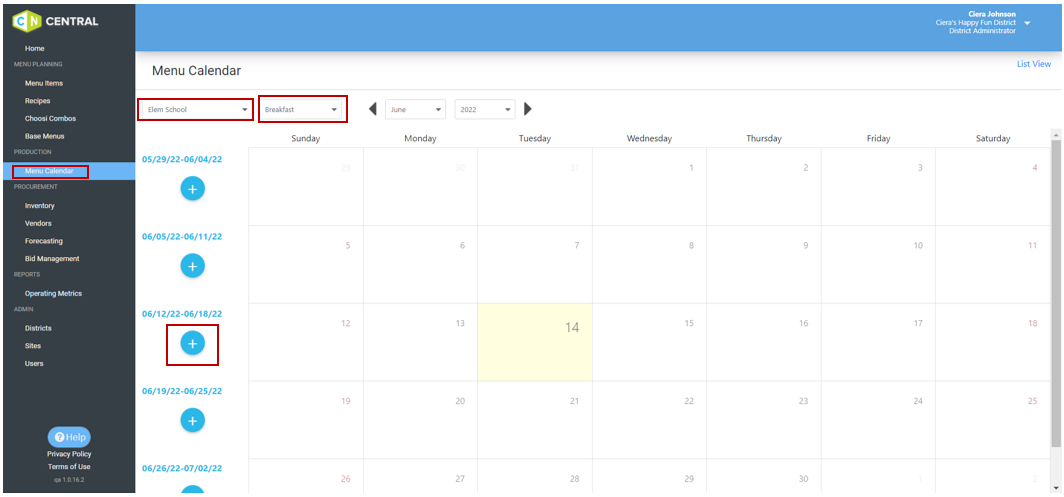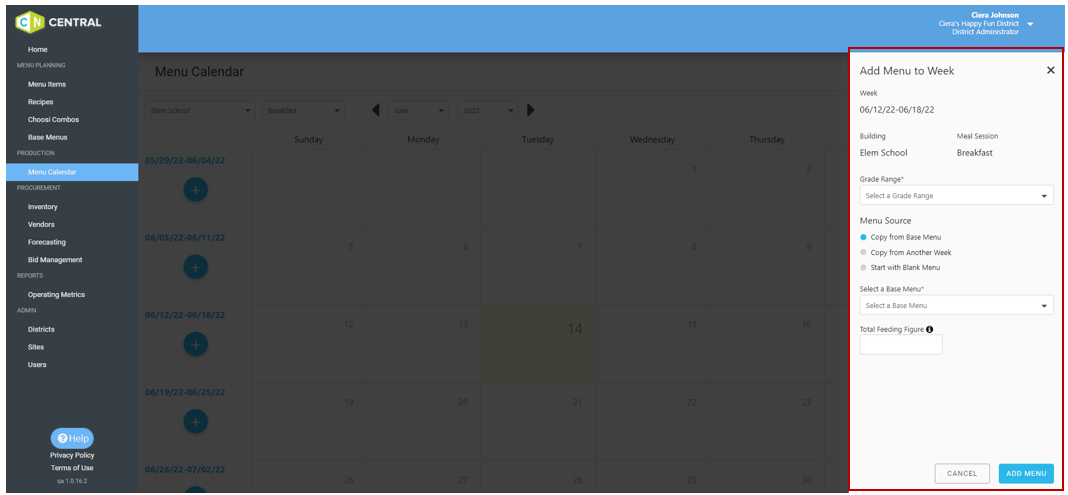 For more detailed information on how to copy Base Menus to Production please check out Creating a New Menu from the Menu Calendar
Forecasting
Reviewing your forecast will help you accurately determine exactly how much product you need to order to prepare the menu as designed by the menu planner.
Note: District Admin (DA) users will be able to run a forecast for every building within a district for the timeframe defined. This allows for accurate centralized ordering across the entire district. Building Admin (BA) users will be able to run a forecast for only the building(s) they manage for the timeframe defined in the filters. This allows individual buildings to determine how much product they need to order if a district is a setup for buildings to place their own orders.
In the Forecasting Module start by selecting the Date, Building, Category and Vendor you want to run the forecasting on, then select Run Forecast.
From the Forecasting, you can generate a Forecasting PDF to print out. Estimated Quantities refers to menu usage. Accurate forecasting means more efficient production schedules, improved purchasing, maintenance of proper inventory levels, and inventory turnover.
Production Records
Production Record data can be captured either in CNCentral or the Daily Wrap Up app. Districts and buildings may choose which method for production record data entry works the best for their operation. Below are the instructions for entering PR data into CNCentral by a site Manager.
The Menu Calendar makes it easy for users to access the production records with a single click. From the Menu Calendar, simply locate the day you want to view a production record for and click the Production Record link in the calendar box. Make sure you've got the correct filters for the production record you're trying to access.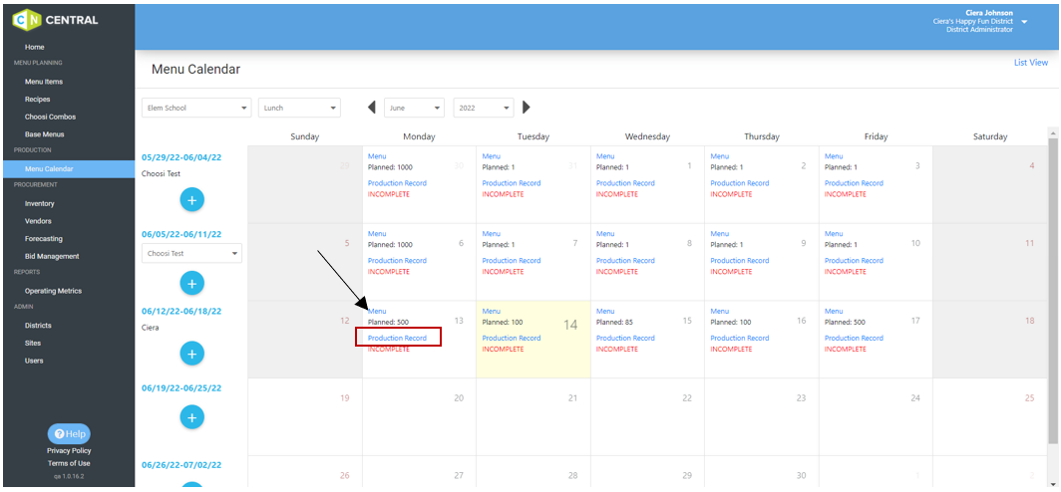 From the daily Production Record, users can view or enter pre- and post-production record information, view Choosi orders (if applicable)
From the paper icon users can run all pertinent production reports depending on the features your school or district uses including: Daily Production Record Report, Satellite Feeding Tracking Form, Meal Kit Reports, Choosi Reports and Recipe Reports
For more detailed information on how to view and enter Production Record Reports please visit Entering Production Record Data
Entering Time and Temperature in Production Records using DWU app
Online Menu
Choosi is a mobile platform allowing menu planners to publish their menus as planned in CNCentral to an app that can be viewed online or on a mobile device from anywhere at any time. Choosi online menus will display images for side items and entrees as well as nutrition information and allergens when input by the menu planner in CNCentral.
For the online menus parents, students, and teachers will be able to view the Item or Recipe Name, Image, Nutrient Information, and the Allergens.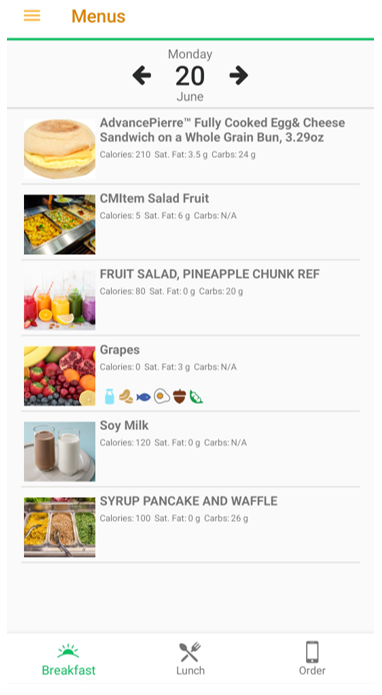 For more detailed information on Online menus visit Online Menu Display