What product is this article for?

CNCentral
Overview
Menu Planning forms the core module of CNCentral and powers all other interoperable modules, including Production Records, Online Menus, Mobile Ordering, Point of Sale, Forecasting, and Purchasing & Inventory.
The instructions below assume that the users' Districts are set up and users can sign into CNCentral. The page looks similar for District Administrators and Building Administrators, but the functionality is different. District Administrators (DA) have access to all buildings in the district, creating and editing base menus and recipes. Building Administrators (BA) can see and enter data for their prospective building(s) and perform daily and monthly tasks like entering production records and inventory. For more information on user roles please click here- User Roles
General Navigation
The homepage is where you can access the Sidebar to the left of the screen and the Dashboard. The Dashboard will provide you with quick links to help you get to the area you want to go to faster. On this page, you have quick links to our user guides, and helpful articles from our knowledge base to help you troubleshoot any issues you may have and answer any questions you may have on how to use this software.
The Sidebar is how you can navigate to the different modules inside of CNCentral. All modules will have filters and search bars to filter the amount of data you see. All data headers can be used to sort the data in each range you see additionally clicking on the data header will rearrange the data you see. On each module, you'll see the blue plus sign button to create a new entry.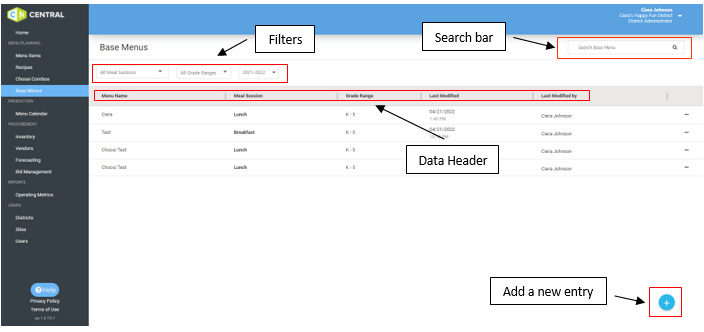 Universally throughout the software is the ability to edit, delete, copy and view entries by using the 3 dots. In addition, you can view entries by clicking on the entry name.
For more information on best practices on CNCentral check out this link here- CNCentral Best Practices
Getting Support
The easiest way to get support is by clicking on the Home tab on the left navigation side and selecting any of the hyperlinks in the first columns shown below. Clicking on the hyperlinks brings you to the Knowledge base help center where you can find articles to help you use CNCentral, GDSN, Choosi. Here you can access articles based on your need, for example, if you need assistance with tolls then Guides would be the best place to start, this will help you navigate throughout the software. You can access the articles at any time, if you do not find what you are looking for you can reach out to your consultant and/or submit a help desk ticket. To submit a ticket after searching the help center you can click on the blue Help button.
Uploading & Matching Items
Adding your items to the software is easier with CNCentral, this eliminates manual data upload, keeps product specs up to date, saves time, and minimizes the room for error. CNCentral has primary branded items, including commodity processed items and distributor private label products, items must have a GTIN, Published to Nourish to Flourish Database. Also includes Generic items that are primarily non-branded and/or standard Items like Fresh fruit and canned vegetables, items without a GTIN, and brown box items. Items come from USDA Food Buying Guide and Food Data Central.
To request items from your Vendor view Vendor Item Request.
Importing Items into the Vendors module is the first step when beginning to use CNCentral for Menu Planning, Forecasting, and Inventory and must be completed before users will be able to enter Recipes or Base Menus. From the Vendors module, you would select the blue plus sign to add the name of the Vendor you purchase the items from. (Skip the steps in this section if your vendor is already setup in the Vendors Module)
After your vendor is added you can now download the spreadsheet template to your computer. Click the [OK] button when the template has been downloaded. Once the template is filled out click the Select File Icon. Locate the file from your computer to upload into CNCentral then click the [Open] button. Once uploaded, you will see the file path displayed next to the Select File icon. Click the [Match Items] button on the top right-hand side of your screen. When the file has been processed you will see 6 options for the information uploaded in the status column.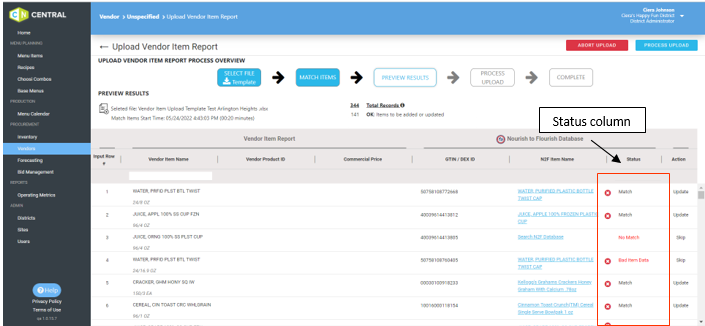 Match - an exact match from GDSN was found and no further manipulation is needed for this item to be processed and imported
Duplicate - the item already exists in the users Item Database from this Vendor and no further manipulation is needed for this item to be processed and imported
Manual Item - the item was created manually (this requires manual data entry for this item and no data from GDSN will be used)
Bad Item Data - the matched item is missing required information and will need to be corrected before the item can be processed and imported
Bad Input Data - the input data from the uploaded file is invalid and will need to be corrected on the file and re-imported to match this item
Not Match - no item was found that matches the imported item and this item will need to be manually entered or more data provided on the import spreadsheet
Review the completed upload summary and ensure all expected Items were Added or Updated. This process will be repeated for all Vendor Item Lists for all Vendors. This process will also be repeated each year or when new items are ordered. If a single new item is ordered, it is unnecessary to go through the import process. Rather, District Admin users can add a single item (either via GDSN search, Generic search, or manually) by following the instructions here. For more detailed instructions please visit this link - Vendor Item Upload
Item Database
Items in the Item Database are uploaded using the Vendor Item Upload tool or added manually throughout the year by searching GDSN Connect from the Item Database or from the Vendors Module. This is where all your products are kept for Menu Planning purposes. Here you can view, edit, add or delete items from your database. Additionally, you can view item details like item name, manufacture, nutrient and meal components, allergens, and the Active Item count.
More detailed articles about Item Database and Active Item Count can be viewed at the links below.
Item Database Active Item Count
Searching and Adding Items to Database
Adding Generic Items to your Item Database via Generic Database Search
Editing Items in the Item Database
Item Setup Summary
Once all items have been uploaded to your Item Database via the Vendor Item Upload function, review the Item Setup Summary information prior to using Forecasting and/or Inventory Module. Please note that all items must be confirmed before using the Inventory Module.
To find the inventory setup summary go to the Item Database, click on the "Reports" icon, select "Item Setup Summary" While most of these values should be approximately correct if they were imported from N2F Database, the system has flagged certain items that require manual review. Confirming the values is required for any item to be counted and tracked in the Inventory module to ensure the proper relationship between purchase orders, inventory counts, and menu usage.
Here you may see 6 different warning messages- Different Inventory & Purchase Units, Review Inventory Setup values: All 1s, Review Inventory Setup values: Low Net Weight as Served, Invalid Inventory Setup values: Values of 0s/Blank, Large Difference in Net Weights, Item Not Linked to active Purchase Unit. Once you have corrected the warnings and errors save and select the Procurement tab.
The Procurement tab defaults to show you all the purchase units with warnings & errors. If there are no purchase units with warnings, then it will default to show you all purchase units. Once all warnings and errors are clear you select save. For more detailed information on Item Setup summary please click the link- Item Setup Summary
If you have completed all sections in this article, check out Getting Started Part 2 for the next steps to Build Recipes, Build Base Menus, and Review Reports.