Physical Inventory Quick Reference Guide
Before entering your Physical Inventory in CNCentral, print the Physical Inventory Report and conduct an actual Physical Inventory using the report. Follow this think for more information on accessing the report: https://inteamhelp.zendesk.com/hc/en-us/articles/1500008986302-Physical-Inventory-Report
Steps:
Select "Inventory" from the left-hand menu.
Select the "Physical Inventory" button in the top right.
3. Select your "Site". (If you just have one site, this should auto-populate)
4. Select your "Bin". (This is essentially the storage location of the product.)
5. Select the "Date".
6. Add your numbers to the "Counted Balance" field.
7. When all entries for an entire "Bin" have been made, select "Complete".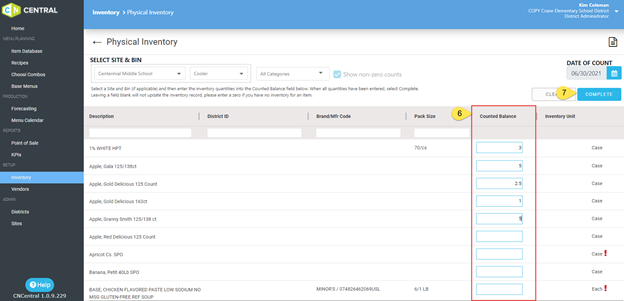 8. If everything looks good on the "Confirm Transactions" page; select "Confirm".
Tips:
If an Item has a red exclamation point next to the Inventory Unit on the right, it is either missing a price or the item has not been confirmed on the Inventory Setup screen. If the Inventory Setup has not been confirmed; you will need to confirm the Inventory Setup information before continuing the physical inventory for this item. If it's missing a price; you will only be able to complete a physical inventory count that subtracts from the Inventory balance, not adds. You can add a price in the Vendors section.
If you are looking for a specific Item, use the textbox under the "Description" field to quickly filter the list to find your Item.
For more help on conducting a Physical Inventory, check out this video: https://inteamhelp.zendesk.com/hc/en-us/articles/1500007918142-Manager-Conducting-a-Physical-Inventory